Read Time:
6 Minute, 28 Second
Let's walk through some basics of a successful Google Ads campaign.
Before you start
When you create your account, Google requires you to pick keywords and create your first ad before you really know what you're doing. In other words, they kind of toss you in the water before you learn to swim.
A successful Google Ads launch therefore depends on knowing as much as you can before you actually create an account.
Here are a few things you need to know first:
Basic terminology.
How to select keywords.
Ad format.
An initial budget.
How to write your first ad.
Let's examine these further.
Basic terminology
Ad campaign: Multiple Google Ad groups centered around a broad category. A sports apparel store might have separate campaigns for socks, shoes, jerseys, and hats.
Ad group: Within each Ad campaign, there are ad groups. Within the hats campaign mentioned above, there could be ad groups for baseball hats, basketball hats, men's hats, women's hats, etc. It's very important to cluster ad groups around common themes, because you'll associate certain keywords with each one.
Keywords: The terms or phrases people type into a search engine, which you can apply to each ad group.
Cost per click (CPC): Your budget depends on how many people click on your ads. For each click, you'll pay a fee based on the keyword searched. Cost per click can range from less than $1 to $50 or more for super high-value keywords and can fluctuate over time depending on a number of factors, including how many competitors are bidding on them. But you can set the maximum amount you're willing to pay per click and change it at any time.
Quality score: A high quality score can lower costs and increase traffic and is largely based on how well your ads align with the landing page they link to. This is one reason you almost never want to link Google Ads to your home page. Instead, link directly to the product you're advertising or to a landing page with more information related to your offer.
There are many more terms to learn, but these are enough to get you started. Here's a ten-point checklist from Google that can help you learn more.
How to select keywords
Start by selecting the keywords around which you want to build your first campaign. They should be specific and, typically, more than one word unless they're the name of your business. While broad keywords send more traffic, more specific keywords are more likely to result in sales.
Suppose you have a flower shop and want to advertise to serve weddings. Here's a list of keywords in order of quality:
Poor keyword: flowers
Decent keyword: wedding flowers
Better keyword: wedding flower bouquets
Optimal keyword: wedding flower bouquets in [name of your city]
Now, the same store could have another wedding ad group built around corsages, another around flower petals, another for floral decorations, another for honeymoon flowers, and so on. Then there's Valentine's Day, Mother's Day, birthdays, romantic occasions, flower types and colors, budgets…If people search it, you can advertise for it.
Ad format
Here's what the backend of Google Ads looks like when you create an ad: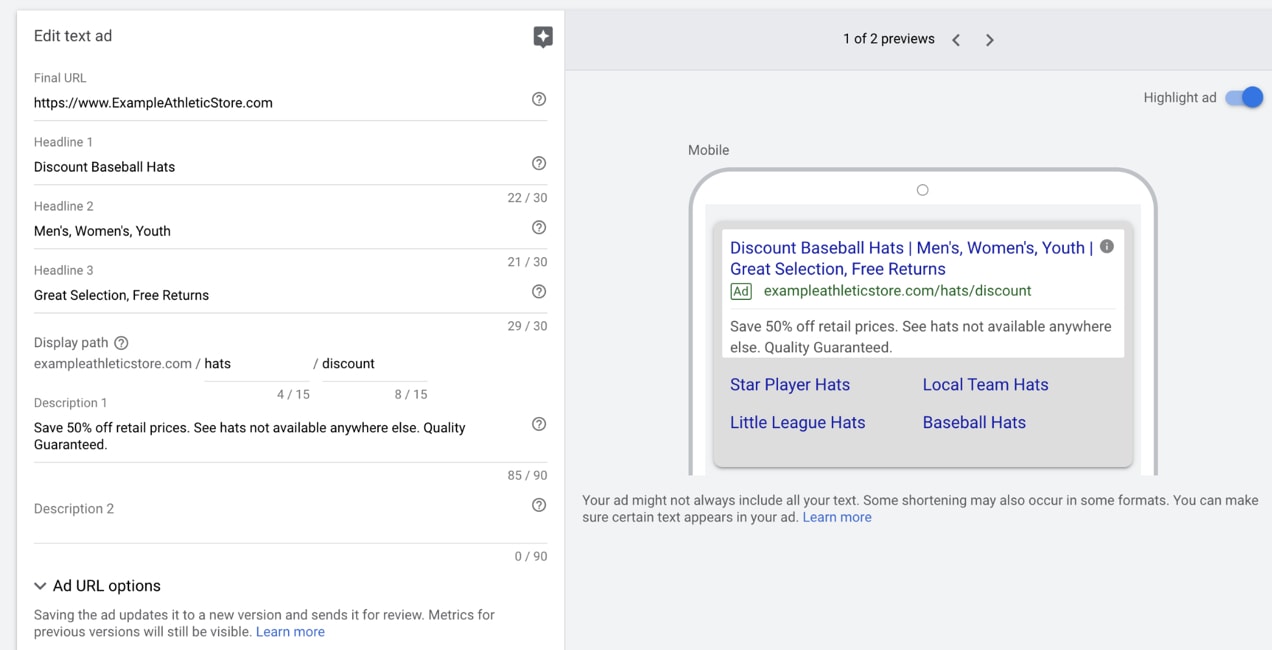 Notice the fields available:
Headlines 1, 2, and 3 all have 30-character limits. Your message needs to be succinct. Notice how the headlines show up in the actual ad, shown to the right of the screenshot.
Below that, you'll find a green URL, which matches the "display path," the fifth field on the left. The display path is the URL your customers will see, but it doesn't have to be the same URL that they click through. In fact, it doesn't even have to be a real URL at all. It's simply meant to help customers understand where on your site they'll end up. You want it to be simple and easy to understand, and relate to your primary keywords. Each space has a 15-character limit. The real URL from your website is the top field on the left, the "Final URL."
Below the green, you see black text, which includes Descriptions 1 and 2, each of which have 90-character limits.
Before you create your Google Ads account, choose a few keywords for an ad group, and write the text for at least one ad.
Google will ask you to create this ad as you set up your account. Now is a great time to draft a well-written ad that fits within the character limits above. Then, when Google asks for it during the account setup process, you've got it ready to go.
An initial budget
You'll be required to set a daily ad budget. You can change this later, so, for now, choose an amount you can comfortably afford while you learn the platform. Your actual daily spend may be slightly over or under this amount, but your daily average over the course of a month will meet the limit you set.
Once you launch your campaign, you'll start to notice trends and areas where you can make improvements. Google's artificial intelligence will also deliver better results over time. If you plan to spend no more than $500 per month, you should space your budget out. Instead of starting with a daily budget of $100 (your budget will be exhausted before you can make any adjustments), consider a daily budget of around $15.
How to write your first Google Ad
Create different ads for each ad group. A good ad uses one of the keywords you're targeting in that ad group. Ideally, you'll fit that keyword in Headline 1 or Headline 2, and somewhere in one of the descriptions.
Beyond that, you need to make a clear, specific offer or promise. What will a person who clicks on your ad or calls your phone number expect?
Consider our athletic store example. Within the campaign for hats, one ad group is for baseball hats. Notice how the headline in the ad uses the keyword "baseball hats" and specifies a 50% discount over retail pricing?
Avoid being cute or creative with the text in your ad. Be clear and succinct. Use plain language. Space is limited; you want your ad to show up and you want people to understand it.
Give it time
Test several ads against one another for each ad group. Monitor them for a few weeks, and pay attention to the keywords and ads that perform best. Learn as much as you can. Eventually, to better understand the direct impact of your ads on sales, you'll want to create conversion actions, which tell you the exact number of times someone makes a purchase, fills out a form, downloads a brochure, or completes another goal that you set based on your ad.
Consider automation
Search Ads are worth every bit of effort. If you're not comfortable with the steps above but want to get started right away, or if you simply want to save time, consider the Ads on Google extension. It automates keyword selection for you, based on your products and categories, and is a great way to get started quickly!
Reach customers right away
Google Ads are a great way to get in front of the right people with the right message right now, so you can make more sales and grow your business.